May 9: From Conversation to Transformation
From Conversations to Transformation: The Common Key Ingredients
A Harvest from Stories & Conversations
 The following "key ingredients" are common themes found in the 15 stories shared and the conversations at the Social Innovation Lab on May 9, 2013 about "From Conversations to Transformation." Some ingredients are interdependent with others, just like some spices or ingredients in a cookie only taste good combined with other ingredients.
Invite the whole system into the conversation and broaden methods of gathering and inviting for inclusion.
Create an intentional frame for the conversation to take place with a clear purpose, long-term commitments, and openness to what emerges.
Inclusion – design the process so everyone has a voice and engage participants in determining the process.
Make sure to focus on relationships when designing the conversation, not just the goal.
Deep listening – listening without judgment. Not holding your own answers and views as the only answer.
Create a safe space for authentic engagement (energy of conversation, tone, amount of time, design for all voices equal.) And make sure it is understood that discomfort is important. Balance honesty and openness about differing opinions and worldviews. Start from a place of no winners and no losers.
Integrate the art of hosting community conversations with other disciplines for moving from idea to effective action, such as community organizing or design thinking.
Create urgency for the issue you are discussing.
Make sure there is a common goal before acting.
Make sure there are actionable steps that can be easily done shortly after the conversation, and ways to then learn and adapt based upon what is learned from those actions. Build in several iterations of action and reflection.
Check out the map we made about the impact intentional community conversations have had in the Upper Midwest:

Photos from the Lab:
Wendy Morris's framing of the topic at the Lab:
Notes from the conversation at the Lab:
May 9, 2013, 1:00 – 5:00 PM
Macalester College, St. Paul, MN
What does it take to move from hosting conversations to transforming communities?
How do we move from talking to action that makes a difference?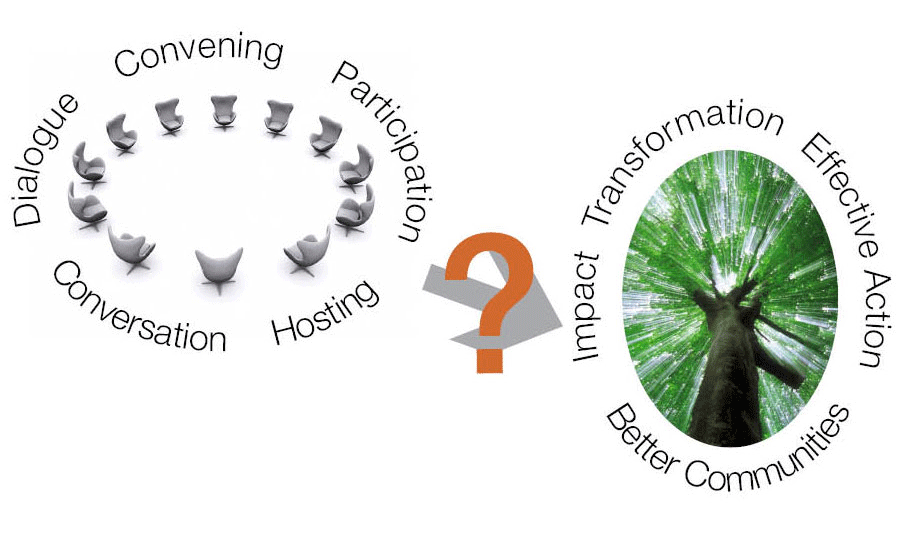 In the past few years in Minnesota there has been an explosion of groups hosting community conversations and dialogue with an intention of building stronger communities. In this Social Innovation Lab, we invite a critical and generative conversation about the impact of this approach to community change. What impact has this kind of conversational leadership led to? What is needed to build on convening to lead to powerful and effective action? For the ecosystem of social innovation in Minnesota, what are next steps in our evolution, that build on the convening approach and take it to the next level of impact? How can each of us as individuals and organizations move from convening to effective action in our work?
How did we get here?        
In 2012, the Social Innovation Lab hosted three large events for community change makers to learn from each other. In 2013, we are working with many people who came to the 2012 who are convening their own innovation labs, with a focus on the issues and areas they are focused on, such as the North Minneapolis Sustainable Food Lab. The Social Innovation Labs are a part of a much larger movement that affirms  the way we enter into conversation and relationship with each other can have a large impact on the actions that come out of those interactions. Many other groups have been offering trainings and facilitated dialogues in Minnesota with related intentions. The Lab has benefited greatly from collaboration with the InCommons initiative at the Bush Foundation, the Art of Hosting, the Art of Convening/Heartland, the Technology of Participation, groups leading dialogue about race, and many other groups that each offer unique contributions to convening and hosting.
Given the depth of experience in Minnesota with convening and hosting, The Lab Leadership Team sees this as a pivotal time to reflect on this kind of conversational leadership to honestly look at benefits, limitations, and opportunities from these approaches. What is needed to take us to the next level of impact, individually and together? 
Who is this for?
The Lab is for community change makers building sustainable and just communities in Minnesota. All perspectives are needed–from businesses, neighborhoods, the arts, families, spiritual communities, nonprofits, tech, entrepreneurs, policy, and more. We are seeking a combination of long-time social innovators and those who are curious and new to the idea. 
For this Lab we especially invite people who have been involved in convening and hosting conversations to join us. We also especially invite community change makers who are skeptical of convening as a change strategy. 
What will happen?
Registration will begin at 1:00 pm. We'll gather from 1:30 pm. until 5:00 pm. We will have a highly interactive exploration of the questions described above, in small groups, pairs, and the large group. Together we will summarize and synthesize what we're learning and what next steps we want to take. A written summary and video highlights from the afternoon will be made available to all participants, for all of our use.
The Lab will include stories of moving from conversation to transformation from Medtronic, TakeAction Minnesota, Students Together as Allies for Racial Trust, Hennepin County, Native American Somali Friendship Committee, Blue Cross Blue Shield Foundation of Minnesota, Clean Up the River Environment, Appetite for Change, Minnesota Council of Churches, Heartland, Organizing Apprenticeship Project, ISAIAH, and the Tiwahe Foundation. In addition, all participants will be invited to share their stories and insights about moving from conversation to transformation. 
Your hosts for the afternoon will include Sam Grant, Wendy Morris,Miré Regulus, Michael Bischoff, Lecia Grossman, Dylan Skybrook, Christine Capra, De'Arreon Robinson and Paris Carruthers.
Desired Results: