Feb. 20 & 21, 2014: Leading Innovation: Deep Dive Workshop
Click below to see photos of participants from the workshop:

NOTE: This Feb. 20 and 21 Leading Innovation workshop is currently full. You can sign up below to be added to the waiting list and/or to receive emails about upcoming Social Innovation Lab events. This same 2 day workshop will be held again on Sept. 15-16, 2014. You can find out more and register for that here.
Are you working with a diverse network of people to solve complex social challenges? Would you like to be?
We invite you to learn and practice an approach to collective innovation that is: 
Collaborative

 


People and organizations from many perspectives learn and create together

A grocery store developer, city agency, and nonprofit youth group partner to build a thriving food system in their neighborhood




Experimental

 


Prototyping  solutions based on the best evidence and quickly learning from those prototypes to build the next iteration

Employers quickly test initiatives to close racial disparities in hiring and promotion, track changes, and share what works with other employers




Committed to Transformative Results




Going beyond dealing with symptoms to address the root causes and key leverage points to improve whole systems

Cross-sector teams scale effective prototypes to cut the childhood malnutrition rate by 50% in their region



We invite you enter into an ecosystem of innovators and super-charge your networks, thinking, and action. Attend the workshop and answer these questions:
How could your work benefit from learning from leading innovators in local food systems, public safety, racial equity, economic development, community art, climate change action, and health reform? What could you contribute to their innovations?

How do our diverse efforts for community change fit into a greater whole, building a just and thriving region? What synergy, conflict, and connections might enhance this greater whole?

 
This in-depth 2-day training will offer tools and activities for tapping into the sources of innovation in your network. You will leave with activities that you can use to assess and spark innovation that leads to impact and funding. We encourage teams from your organization or network to come to the training together, and use these 2 days to do powerful strategizing about innovation and your work. 
Using pressing issues you currently face in your work, we will experientially move through steps in a process for collective innovation. We will practice with exercises and tools that you can use in your own work with the following steps in innovation:
Clarify your team's intent

Deeply investigate the needs and systems you are seeking to change

Retreat and reflect to access new insights

Quickly build prototypes that develop practical solutions

Scale innovation for social benefit
We will illustrate these steps with stories, your reflections, and experiential activities and reflect on how you can adapt and apply these activities in your own innovations. Click on the image below to see a diagram of the process that we'll move through together.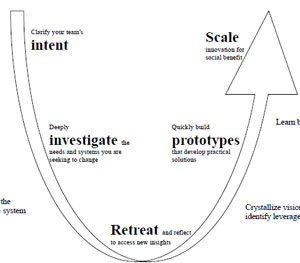 Expected learning outcomes:
Ability to apply a framework and set of practical tools to facilitate innovation

For small groups coming together: Vision, strategy, team building, and prototypes developed customized for your work

For individuals: A set of working relationships with other innovators, who will work with you in customizing the innovation approaches to specific challenges you are working on

Ideas for how you can contribute to innovation in your field and the collective impact your field seeks

Connections with other innovators
When and where?
The workshop will be on Thursday, Feb. 20 from 9:00 am to 4:30 pm and Friday, Feb. 21 from 9:00 am to 4:30 pm. We'll meet at the UROC Center at 2001 Plymouth Ave. N. in Minneapolis.
How much?
The early registration fee of $225 is for people from nonprofit, government, and grassroots groups. The early registration fee of $350 is for individuals from for-profit groups. Register now to ensure your early registration spot. Once the early registration spots are filled, the regular registration will be $275/$400.

Optional add-on: A follow-up session in your organization
For an additional $200, Michael or Sam will schedule a one-and-a-half hour follow-up meeting in your organization. You can invite your other colleagues to this session, where we will apply tools from the workshop to sticky issues you are facing in your work and customize practical prototypes to your organization. 
Who should attend?
Teams working together on complex challenges

Leaders and managers and leaders in business, government, and community groups who want a fresh way to address current challenges

Facilitators and change agents who want to learn to facilitate more complex challenges with 

diverse groups

Anyone involved in innovation, systemic change, or engagement of stakeholders in complex 

environments
Facilitators: 
Sam Grant is a social entrepreneur – committed to environmental health, cooperative economic wealth, and cultural integrity and well being. He has organized around these core concerns since 1983, and currently plays a lead role in 2 nonprofits locally – AfroEco and Full Circle Community Institute.
Michael Bischoff has been facilitating visioning, program development, and evaluation with nonprofits in Minnesota for the past 18 years, both as a staff member and consultant. Michael is currently the lead consultant at Clarity Facilitation. He and Sam are two of the leaders of the Social Innovation Lab, which fosters innovation and learning across sectors and issues.
Co-Sponsored by:

Photo credits: Natalie Maynor, "Farmers Market" / Rick Kim "Humphreys Job Fair" / Pratham Books "Children Reading" (flickr users, Creative Commons Licenses)