What is Ripple Effect Mapping?
Ripple Effect Mapping (REM), uses elements of Appreciative Inquiry, mind mapping, and qualitative data analysis to reflect upon and visually map the intended and unintended changes produced by a complex program or collaboration. It is a powerful technique to document impacts, and engage stakeholders.
Examples of impacts might be: the inception of a school garden, a noticeable increase in different kinds of people working together, new training programs, a community becoming able to move through previously intractable conflicts, new collaborations of all sorts, people becoming sensitized to important concepts they were previously insensitive to (such as privilege, differing worldviews, etc.)
Why map ripple effects?
To increase insight into both intended and unintended consequences of convening activities.
To learn what works well and not so well across the range of engagements.
To facilitate the broader system beginning to see itself.
To identify areas of unmet need.
To foster greater connectivity across groups.
To garner resources from funders.
To support meaningful research

Examples of Ripple Effects
What are some examples of ripple effects of convening?
We plan to gather many examples on May 9 and online starting now. We're interested in the entire lifecycle of convening: the initial conversations, the initiatives that follow, and the outcomes, intended and unintended.
Effects from convening show up in many arenas:
"Bricks and Sticks" Built Environment – Community conversation around sex trafficking jumpstarts the building of new housing for women seeking to rebuild their lives.
Cultural Resources  –  Small group of high school students responds to racial unrest in their school by hosting student-led conversations that generate new understanding, solutions and action from the administration.
Economic Vitality – Series of conversations leads to the creation of a program that helps thousands of Minnesotans become homeowners, start small businesses and go back to school.
Leadership Everywhere  – Leadership development program creates opportunities for congregations, clergy and people of faith to come together and discuss ways to collectively improve racial and economic equity.
Natural Environment – Grassroots organization hosts community dialogue sessions that shift public opinion and generate cross-sector support for the removal of non-functioning river dams, setting the conditions for improved water quality and habitat.
Political Influence – State agency, in collaboration with a community-initiated credit union, hosts a series of statewide listening sessions that results in a legislative agenda to address poverty.
Social Glue (connections across people and organizations) – Coalition of twenty organizations and agencies that serve families with preschool children in the same region host conversations to develop shared definitions of success, and create more opportunities for success together than they would have separately.

Ripple Effect Frequently Asked Questions
Frequently Asked Questions
Seeking Stories of Convening for Transforming: A conversation about what it takes to move from convening conversations to transforming communities, and how we can move from talking to action that makes a difference
 What do we mean by convening?
Gathering people together for a conversation that will enable them to make progress on issues they care about
What do we mean by transforming communities?
Significant and sustained changes that people in the community would recognize as positive progress
What kinds of stories are we looking for?
Stories about how community conversations have contributed to changes, impacts and influences in a community. Convening conversation is like dropping a pebble in the pond of a community. We're looking for stories to help us better understand the large and small, direct and indirect ripples that come out of these conversations.

Register for May 9th event From Convening to Transforming
May 9, 2013, 1:00 – 5:00 PM
Macalester College, St. Paul, MN
What does it take to move from hosting conversations to transforming communities?
How do we move from talking to action that makes a difference?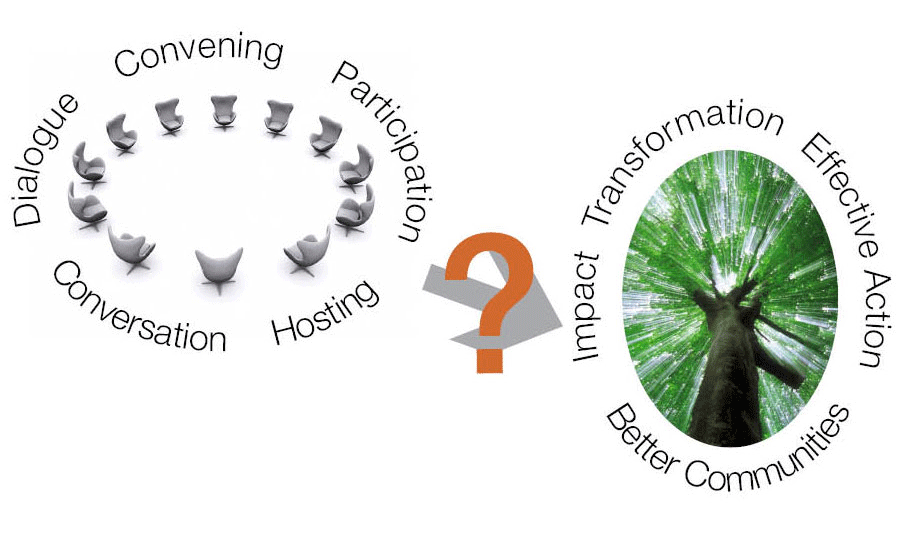 In the past few years in Minnesota there has been an explosion of groups hosting community conversations and dialogue with an intention of building stronger communities. In this Social Innovation Lab, we invite a critical and generative conversation about the impact of this approach to community change. What impact has this kind of conversational leadership led to? What is needed to build on convening to lead to powerful and effective action? For the ecosystem of social innovation in Minnesota, what are next steps in our evolution, that build on the convening approach and take it to the next level of impact? How can each of us as individuals and organizations move from convening to effective action in our work?
How did we get here?        
In 2012, the Social Innovation Lab hosted three large events for community change makers to learn from each other. In 2013, we are working with many people who came to the 2012 who are convening their own innovation labs, with a focus on the issues and areas they are focused on, such as the North Minneapolis Sustainable Food Lab. The Social Innovation Labs are a part of a much larger movement that affirms  the way we enter into conversation and relationship with each other can have a large impact on the actions that come out of those interactions. Many other groups have been offering trainings and facilitated dialogues in Minnesota with related intentions. The Lab has benefited greatly from collaboration with the InCommons initiative at the Bush Foundation, the Art of Hosting, the Art of Convening/Heartland, the Technology of Participation, groups leading dialogue about race, and many other groups that each offer unique contributions to convening and hosting.
Given the depth of experience in Minnesota with convening and hosting, The Lab Leadership Team sees this as a pivotal time to reflect on this kind of conversational leadership to honestly look at benefits, limitations, and opportunities from these approaches. What is needed to take us to the next level of impact, individually and together?
Who is this for?
The Lab is for community change makers building sustainable and just communities in Minnesota. All perspectives are needed–from businesses, neighborhoods, the arts, families, spiritual communities, nonprofits, tech, entrepreneurs, policy, and more. We are seeking a combination of long-time social innovators and those who are curious and new to the idea.
For this Lab we especially invite people who have been involved in convening and hosting conversations to join us. We also especially invite community change makers who are skeptical of convening as a change strategy.
What will happen?
Registration will begin at 1:00 pm. We'll gather from 1:30 pm. until 5:00 pm. We will have a highly interactive exploration of the questions described above, in small groups, pairs, and the large group. Together we will summarize and synthesize what we're learning and what next steps we want to take. A written summary and video highlights from the morning will be made available to all participants, for all of our use.
Your hosts for the morning will include Sam Grant, Wendy Morris,Miré Regulus, Anne Gomez, Michael Bischoff, Lecia Grossman, Dylan Skybrook, Christine Capra, De'Arreon Robinson and Paris Carruthers.
Desired Results: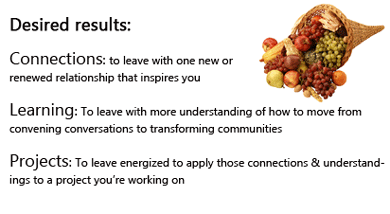 Location and Parking
We'll meet at Kagin Commons at Macalester College. You will be able to park free in any of the Macalester parking lots that morning. Here is a map of the parking lot. You can park in any of these campus lots, even if they are marked Macalester student/staff only. You don't need a pass for your car. After the lab ends, we also invite you to stay for dinner in the Macalester cafeteria ($11.40 buffet).
How much does it cost? 
Pay what it is worth to you; pay what you can. Suggested contributions: $25 non-profit, $35 for-profit. Your contribution supports social innovation in Minnesota. No one will be turned away for lack of funds. Tickets can be refunded up until May 1. A limited number of volunteer scholarships are available. Contact Miré Regulus at darsma.regulus@gmail.com to inquire about volunteer opportunities.

[formlightbox_call title="Mapping the Ripple Effects of Convening Activities in The Upper Midwest" class="1363636834646″]Share your convening stories[/formlightbox_call] [formlightbox_obj id="1363636834646″ style="" onload="false"][iframe scrolling="yes" frameborder="0″ src="http://greaterthanthesum.com/limesurvey/index.php/941581/lang-en" width="759px" height="600″][/formlightbox_obj]